English Top » Objectives » Outline of the plan for establishing CbLLE
CbLLE seeks to attain world-leading research achievements in the following three areas of linguistics:
Field linguistics: collection and analysis of naturally occurring language-use data from a wide range of languages through field research
Corpus linguistics: compilation and analysis of large-scale corpora of a wide range of language-use data
Linguistic informatics: application of corpus-based linguistic analyses to language education and pedagogy
By integrating effectively the above three research approaches, CbLLE Education program equips young researchers with flexible and broad perspectives in advanced linguistic research based on actual language-use data.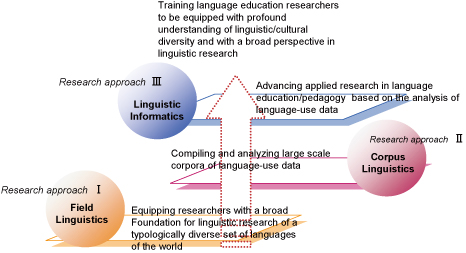 This academic program makes a significant contribution to the discipline of linguistics in the following respects:
Equipping researchers with broad research perspectives:
the program establishes the much-needed education program for training young researchers who are equipped with broad perspectives as well as a profound understanding of linguistic and cultural diversity in the world.
Providing practical training in the studies of languages and language education:
the program produces researchers who are competent in technical communication in research activities within and outside Japan, by providing practical training in field research and language education as well as in corpus creation.
Strengthening international academic connections with educational programs abroad:
the program contributes to advancement of research in linguistics and language education in Japan by building a network of international collaboration and academic exchange and by expanding opportunities for researchers to interact academically across institutions and across countries.